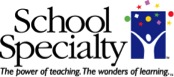 GREENVILLE, Wis. (PRWEB) May 30, 2013
As bullying takes on new forms in schools, teachers and administrators are looking for ways to prevent a conflict before it starts. School Specialty, Inc. (OTCQB:SCHSQ), a leading K-12 education company with the broadest array of products in the education market, announces Raising Respect, a planner program that provides actionable tips to identify, intervene and address bullying in and out of school. The program is being developed through the companys Premier brand.
With Raising Respect, the entire education community can work together to avoid the consequences of bullying and its impact on learning, lives and futures, said Andreas Kaufmann, vice president of marketing for Premier. This program enables students, educators and families to create a secure climate of achievement, and a place where every student can learn in safety, empathy and belonging.
Benefits of the program include:

Related Blogs