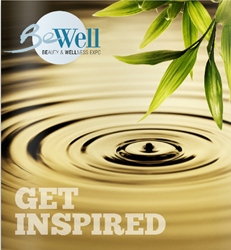 Pasadena, CA (PRWEB) September 11, 2013
BeWell Expo, the ultimate beauty and wellness oasis, continues to add to their extensive list of activities with their latest announcement of, Get Inspired the informational health, wellness, and spirit discussion panel. The upcoming show is slated to transform the mind and body, October 12 & 13 at the Pasadena Convention Center.
My passion for the show derives from balancing beauty to wellness and the mind, said founder Christele De La Haye. The ability to incorporate the guest speakers sets BeWell from any other show, as were engaging attendees to transcend beauty and wellness from within. By fusing exclusive products to an enhanced well-being, the utmost experience can be achieved.
Each unique lecture speaker will cover a wide range of mind, body and spiritual topics focusing on the integral aspects behind an optimal lifestyle. From aromatherapy, meditation, energy stones, nutritional insight to renowned lectures on redefining a lifestyle, the speakers have compiled exceptional techniques.
Since 2012, I have launched BeWell Expo, which is an exclusive and ultimate beauty and wellness oasis, where attendees can experience and indulge in the industry's best kept secrets. It is about empowering oneself by embracing all the tools the body, mind and spirit need to look and feel good, continued De La Haye. It is about discover, explore, learn from and connect with the latest beauty techniques, best makeup secrets, anti-aging solutions, supplements, hair therapy, sound healing, energy healing, chakra balancing, relaxation techniques, color therapy, inner peace solutions and much more.
The following lectures will be available for all attendees:
Saturday:
11:00am Japanese Byosen Aura Scanning, Removal of Energetic Blocks and Chakra Balancing with Reiki Master Sepi
12:00pm Ancient Secrets for Anti-Aging with Ayurveda with Lissa Coffey
2:00pm The Heart of the Matter, Beauty from the Inside Out with Darren R. Weissman
3:00pm Holistic Wellness: Its Your Choice with Sudhir M. Shah. MS, MPPM (Yale)
4:00pm The Powers of True Aromatherapy with Ginger Ravencroft
Sunday:

11:00am Messages from Beyond: Embracing Spirit in Our Daily Lives with Keri Ports, Human & animal psychic/medium
12:00pm Awaken, Balance and Optimize Your Energy with Tammy Lynn Calderon
1:00pm Activate and Sustain Your True Self with Ria Ray
2:00pm Whole Nutrition for the Skin with Jessica Puckett
3:00pm Style Your Mood with Fragrances with Sherri Sebastian
4:00pm Grounding Mediation and the Benefits of Energy Healing with Reiki Master Sepi
Complimentary activities are available on a first come, serve basis and panels are open for all attendees. Registration is now available on BeWell-Expo.com $ 25 for one day pass and $ 50 for two day pass.
About the BeWell Expo
With over 20 years of experience in the skin care and spa trade industry BeWell Expo has created an active environment to engage consumers with exclusive insight into the beauty and wellness industry. By bridging the gap between the elusive industry secrets to consumers, the prestigious show educates both men and women on the latest trends and secrets individualized for each attendee. CEO and Founder, Christele De La Haye, has handpicked and thoroughly researched each exhibitor for the utmost and luxurious experience with the balance of optimized beauty and wellness in mind. Slated as a prestigious mecca BeWell Expo will be held at the Pasadena Convention Center, October 12 and 13, 2013. BeWell-Expo.com.
More Anti Aging Supplement Press Releases

Related Blogs