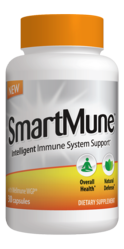 Alberta Lea, MN (PRWEB) May 07, 2012
SmartMune, an all-natural supplement that is clinically proven to nourish the immune system for more energy and overall wellness, will be launching its new Direct Response media campaign on May 7, 2012. These commercials will highlight SmartMunes benefits during the Spring and Summer seasons when people are more prone to allergen exposure, focusing on the products benefits for both mothers and baby boomers.
During the warm months of Spring and Summer, people tend to spend more time outside, thus exposing themselves to the allergens, pollution, and other elements in the air. Mothers can especially benefit from SmartMune at this time, when they are more susceptible to the changes that these seasons bring. The busy lives of on-the-go mothers can often leave them feeling run down and tired; SmartMune is a small addition to their busy lives that can make a noticeable difference in their health and keep them feeling energized and productive, regardless of environmental challenges.

Related Blogs